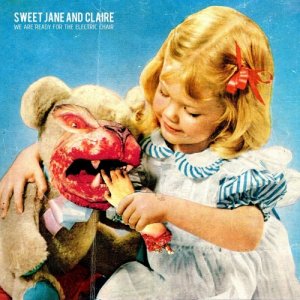 2015 - Psichedelico, Pop rock, Alternativo
Leggi la recensione
Descrizione a cura della band
We are ready for the electric chair è il secondo full-lenght firmato Sweet Jane And Claire.

Il nuovo album - registrato, mixato e masterizzato da Alfredo "Epi" Gentili presso i Go Down Studios - si presenta caotico, aggressivo e…lunatico!

Tredici tracce che acquistano nuova linfa rispetto al precedente "Sticky Caramel Mind", tredici episodi caratterizzati da turbolenti droni psichedelici. Un garage rock schizoide intriso di intimi arpeggi acustici incendiati da distorsioni repentine e sintetizzatori acidamente aggressivi.

La nuova fase artistica che caratterizza questo disco non si limita solo alla ricerca di un nuovo sound ma ad un songwriting più elaborato e allo stesso tempo diretto e minimale: è così che prende vita una personale dimensione sonora in grado di perfezionare la formula già collaudata, raffinandola e impreziosendola di volta in volta.

Il titolo - oltre ad essere una provocazione autoironica per disturbare l'opinione pubblica, nonchè una polemica verso il comune senso morale bigotto e patetico - è un omaggio alla prima canzone scritta da Morrisey (mai pubblicata) "I'm ready for the electric chair.


Credits
Produced by Alfredo "Epi" Gentili and Sweet Jane And Claire
Recorded, Engineered, Edited, Mixed and Mastered by Alfredo"Epi" Gentili at Go Down Studios - Savignano sul Rubicone (Italy)
Recording Assisted: Matteo "Garzi" Gori
All songs by Sweet Jane And Claire except "Gaza Raza" by Sweet Jane And Claire
"Rarefied Landscapes" lyric by Luca Zotti and Giulia Adelfio
"Bike in Heaven" lyric by Luca Zotti and Pablo Zollo
Front and inside pictures by Adrian Velazco and Emiko Shimabukuro edited by Luca "Eeviac" Camilotto
Retro and inside pictures by Micosch Holland edited by Luca "Eeviac" Camilotto


Commenti (1)
Aggiungi un commento: