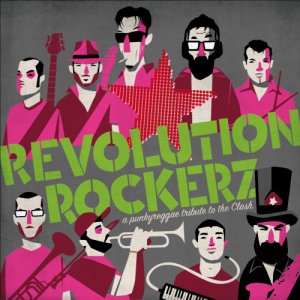 Descrizione a cura della band
STEADYROCKERZ ALL STARS - presentazione

SteadyRockerz All Stars é un progetto nato nel 2015 che mette insieme musicisti di varie formazioni romane come Radici Nel Cemento, Skasso, Veeblefetzer, nato col solo obiettivo di suonare dal vivo, per il puro piacere di riproporre grandi classici dei vari generi del mondo in levare e dintorni mescolate a una serie di pezzi originali della voce del gruppo, Giulio Ferrante, membro fondatore e voce dei Radici Nel Cemento.

Oltre ai concerti, nel 2016 e 17 la band si dedica alla produzione di un album tributo ai Clash, alla celebrazione dell'incontro tra Punk e Reggae.
Il risultato è "REVOLUTION ROCKERZ – a Punky Reggae tribute to the Clash".
10 canzoni e 10 versioni, dal repertorio dei Clash, riarrangiate e risuonate conservando il suono ruvido di schitarrate distorte per mescolarlo con le varie sonoritá del mondo in levare, che siano reggae, ska, rocksteady o dub…
Il magico ed esplosivo incontro tra questi due generi ebbe luogo nei sobborghi di Londra a metá anni '70 e gli interpreti che iniziarono per primi a sperimentare questo nuovo suono furono i Clash che lo introdussero con prepotenza in moltissime loro canzoni collaborando abbondantemente con artisti giamaicani come Mickey Dread.
Il Reggae e il Punk erano due musiche diverse ma l'anima che le esprimeva era molto simile.
Rifiuto totale della societá e conseguente spirito ribelle sono contenuti comuni a queste due culture nate dal basso, espressione della gente che con pochi mezzi e molte difficoltá non si arrende e si mette in gioco, con la dignitá e la schiettezza popolare che rendono la loro comunicazione immediata ed efficace,
nei contenuti come nella musica.
Il disco è stato registrato al Formadonda studio di Roma, da Bruno Avramo, che ne ha poi curato anche il mix.
E' un doppio album, oltre alle 10 canzoni ci sono anche 10 versioni per lo piú strumentali in chiave dub, mixati dal vivo su banco analogico.
La versione "Dub of Brixton" è stata mixata da Neil Perch degli Zion Train.
Dal vivo, oltre a tutti i brani del disco lo spettacolo prosegue con altri classici di artisti del mondo in levare, per un autentico "Punky Reggae Party"!


Credits
nome gruppo: STEADYROCKERZ ALL STARS

nome album: "REVOLUTION ROCKERZ - A Punky Reggae tribute to The Clash"

CD1 - SONGS - tot. time: 44:49

1. REVOLUTION ROCK - 4:46 - (J.Edwards/D.Ray) - London Calling 1979
2. ONE MORE TIME - 4:05 - (The Clash/M. Dread) - Sandinista 1980
3. GUNS OF BRIXTON - 4:30 - (The Clash/P. Simonon) - London Calling 1979
4. I FOUGHT THE LAW - 4:05 - (S. Curtis) - single 1979
5. BANKROBBER - 4:59 - (Strummer/Jones/Dread) - Black Market Clash 1980
6. POLICE ON MY BACK - 4:34 - (The Clash/E. Grant) - Sandinista 1980
7. ARMAGIDEON TIME - 4:05 - (The Clash/W. Williams) - single 1979
8. SHOULD I STAY OR SHOULD I GO - 4:08 - (The Clash/M. Jones) - Combat Rock 1982
9. LOST IN THE SUPERMARKET - 4:56 - (Strummer/Jones) - London Calling 1979
10. PRESSURE DROP - 4:35 - (T. Hibbert) - Black Market Clash 1980

CD2 - VERSIONS - tot. time: 45:31

1. REVOLUTION DUB - 4:40
2. DUB MORE TIME - 4:02
3. ARMAGIDEON DUB - 4:44
4. SHOULD I STAY OR SHOULD I DUB - 4:43
5. DUB IN THE SUPERMARKET - 4:29
6. GUITAR ON MY BACK - 4:28
7. DUB OF BRIXTON - 4:59
8. DUB ROBBER - 4:02
9. ONE MORE TIME T-Bone version - 4:09
10. FUNK IN THE SUPERMARKET - 5:08

RECORDED AND MIXED: FORMADONDA STUDIO - ROMA - 2017 - by Bruno Avramo (except "Dub Of Brixton" mixed by Neil Perch)

MASTERING: Claudio Gruer at pisistudio.com - ROMA

PRODUCTION AND ARRANGEMENTS: Giulio Ferrante / Bruno Avramo

MUSICIANS:

GIULIO FERRANTE: Bass guitar, Lead & Backing vocals, keyboards & synths, acoustic guitar (Lost In The Supermarket)
MAURO GREGORI: Drums
STEFANO GAMBARDELLA: Guitars
MICHELE FORTUNATO: Trombone
SANDRO TRAVARELLI: Trumpet
DOMENICO DE SIMONE: Tenor Sax
STEFANO CECCHI: Trumpet (Should I Stay Or Should I Go)
AMOS VIGNA: Tenor Sax (Lost In The Supermarket)
DAVID ASSUNTINO: Keyboards, Synth & Melodica (Revolution Rock, Pressure Drop)
ANGELO MORRONE: Keyboards, Synths (Bankrobber)

BOOKING: Tommy Gun Production - luca@tommy-gun.it

INFO BAND: giulio.ferrante@gmail.com / +39 3490525639

ARTWORK: Osvaldo Casanova - oz@thankyoufortheroses.com