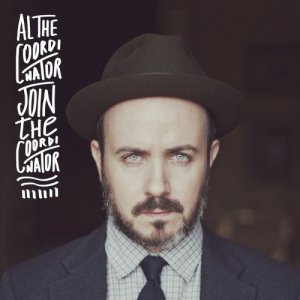 Leggi la recensione
Video in questo album (1)
Descrizione a cura della band
Join The Coordinator è l'album di esordio di Al The Coordinator (stagename di Aldo D'Orrico).
Un breve viaggio di dieci tracce nelle storie di personaggi diversi che si alternano sullo sfondo della musica e della voce di Al, profondamente intrise della cultura del racconto Folk, soprattutto quello anglosassone e americano. Nuove composizioni, scritte da un musicista moderno, con diverse esperienze nella musica contemporanea, arrangiate e presentate con un piglio tradizionale, echi di Country, variazioni Bluegrass e skyline Old Time.
Questo è l'obiettivo del disco: far immergere l'ascoltatore in un mondo di suoni di montagna, boschi e solitudine, seppur vicini e parenti a quelli di città, vista non come un luogo da cui fuggire, ma da ridisegnare. Da qui l'utilizzo di strumenti come la chitarra acustica, il banjo, il mandolino (suonati da Al) e la pedal steel guitar, insieme ai più moderni organo Hammond e piano Wurlitzer.
In mezzo due canzoni tradizionali americane e un capolavoro di Dylan, per mantenere la consuetudine Folk di portare in giro e far conoscere canzoni alla gente, non solo le proprie.


Credits
Al The Coordinator is Aldo D'Orrico, vocals, guitar, banjo, mandolin.

Other coordinators:
Alessandro Valle, pedal steel guitar (Golden), mandolin (Girl From The North Country)
Sante Rutigliano, bass (Golden, The Mist, Really Cares About), backing vocals (The Mist)
Leo Pari, Hammond organ (The Mist), Wurlitzer piano (Really Cares About)
Andrea Ruggiero, fiddle (Working On A Building).

Join The Coordinator arranged by Aldo D'Orrico and Sante Rutigliano
recorded at Gas Vintage Studio (Rome) by Sante Rutigliano and Vlad "KayaDub" Costabile.
Mixed and Mastered at Kaya Studio (Cosenza) by Vlad "KayaDub" Costabile except Really Cares About mixed at Gas Vintage Studio by Sante Rutigliano
The Hunter's Prayer recorded at Sound Factory Studios (Cosenza) by Vladimir Costabile and Alex Adriano.

Graphics: Roberto Gentili.
Photo: Fausto Scirchio.

Management:Vladimir Costabile - lalumacadischi@gmail.com
Press: Gabriele Lo Piccolo - info@gabrielelopiccolo.it
Booking: Renato Failla, Spaghetti Sunday - sundayspaghetti@gmai.com

All songs written by Aldo D'Orrico, except Salt Creek, Working On A Building (traditionals) and Girl From The North Country (written by Bob Dylan).


Commenti (3)
Carica commenti più vecchi
demednes

27/08/2016 ore 22:33

@demednes

Un gran bel disco, complimenti sinceri!

marco

30/09/2016 ore 12:02

@marcomedaglia

complimentoni aldù, spacca!

Settimio Leonetti

04/12/2016 ore 22:10

@darksideofthebrain

Disco superbo.
Aggiungi un commento: