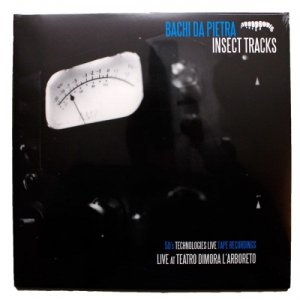 Descrizione
Queste tracce di insetti sono frutto di riprese sonore a cura di Francesco Donadello e di riprese video a cura di Luigi Conte e Rizoma Film. Sono state raccolte nel Teatro Dimora all'Arboreto di Mondaino il 19 luglio 2009. Sono state trasferite su disco da Roberto Barbolini a Bologna nel gennaio 2010 con tornio Neumann VMS70 e testina SX74 direttamente da nastro analogico letto da una macchina Studer A80.
In questa incisione tutta la catena di produzione, dalla ripresa su nastro al solco sul vinile per mezzo di un tornio meccanico, è prodotta con i più evoluti mezzi della tecnologia monofonica degli anni Cinquanta. I Bachi Da Pietra si sono sottoposti all'esperimento, ideato e proposto da Francesco Donadello, nell'arco di un giorno e di una notte, quando il teatro dell'operazione si è aperto alla presenza del pubblico.
I Bachi Da Pietra hanno sottoposto alla vivisezione due inediti e alcuni bachi mutanti: brani che, esecuzione dopo esecuzione, hanno assunto forme diverse rispetto alle versioni precedentemente pubblicate. Il risultato è un disco dal vivo, suddiviso in giorno (senza pubblico) e notte (con il pubblico), ed un film per la regia di Luigi Conte che ne racconta il percorso, seguendone le tracce.

[ENGLISH]

These insect tracks are the result of audio takes by Francesco Donadello and video takes by Luigi Conte and Rizoma Film, recorded on July 19th, 2009 at the Teatro Dimora all'Arboreto in Mondaino. Tracks were recorded on analog tape, read by a Studer A80 tape machine and directly transferred on record by Roberto Barbolini in Bologna, in January 2010, using a Neumann VMS70 lathe and a SX74 cutting head.
The recording and disc-cutting process has involved the use of the most sophisticated monophonic technologies from the Fifties along the whole manufacturing chain, from tape recording to vinyl cutting by means of a mechanical lathe. Bachi Da Pietra underwent this experiment, conceived and proposed by Francesco Donadello, covering a day and a night's span, when the operation scene was finally opened to the public.
Bachi Da Pietra (literally, Stoneworms) have vivisected two previously unpublished tracks, as well as some mutant worms: songs which took on a different shape, compared to their originally issued versions, while being performed again and again over time. The outcome is a live record, divided into a day (without public) and a night (with public) section, and a movie, directed by Luigi Conte, witnessing the experiment by tracking its course.


Credits
NIGHT SIDE
1 - per la scala del solaio
2 - andata
3 - notte delle blatte
4 - casa di legno
Bonus track: lina + mestiere che paghi per fare
-------------------------------------------------------------

DAY SIDE
1 - mestiere che paghi per fare
2 - i suoi brillanti anni '80
3 - strada verso incisa
4 - prostituisciti verme
Bonus track: stella
-------------------------------------------------------------
LP+DVD July 2010 by:
/ Boring Machines / Bronson Prod. / Wallace Rec. /

Audio takes by Francesco Donadello
video takes by Luigi Conte and Rizoma Film
Photoghapher: Christian Cantori

Recorded on July 19th 2009 at the Teatro Dimora líArboreto in Mondaino (Italy).
Directly transferred on record by Roberto Barbolini.
Lyrics translation: Letizia Merello

Bachi Da Pietra: Bruno Dorella & Giovanni Succi
Music an words: G. Succi