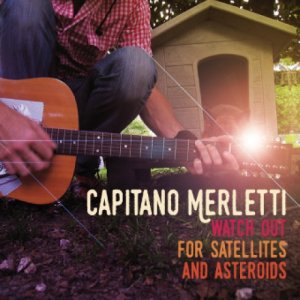 Leggi la recensione
Video in questo album (2)
Descrizione a cura della band
Capitano Merletti, polistrumentista, compositore e produttore Veneto, già colonna
portante di ottime band come i Chinasky e i Maya Galattici, vanta collaborazioni con
artisti quali Cosmic Bloom, Charles Wallace, Homesick Suni & The Red Shades,
Caravanserai, DonnaKatya, Lina Sari.
Ha pubblicato il suo primo album solista "Watch Out for Satellites and Asteroids"
nel 2016 con Garage Records.
La musica di Capitano Merletti è un trip interstellare tra vintage ed elettronica, folk
rock acustico e ballate pop, con una grande attenzione agli arrangiamenti e un
notevole gusto per gli intrecci vocali. Piace soprattutto questa atmosfera da musica
suonata e cantata intorno ad un falò mentre si osserva il cielo stellato sotto l'effetto
di stupefacenti, secondo la lezione impartitaci dai mostri sacri dell'epoca 60‐70 che il
Capitano dimostra senz'altro di aver assimilato molto bene, plasmandola e
riproponendola in molteplici sfaccettature che non disdegnano contaminazioni
Alternative‐Rock anni 90, sotto forma di episodi al limite del "suadente".
Parlando di sé: "Io sono uno che scrive canzoni sin da quando ero giovanissimo, e
sono sempre finite nei gruppi in cui suonavo: alcune non hanno patria, forse perché
troppo personali per essere proposte in certi momenti della vita, e rimangono nel
cassetto. Poi queste canzoni tornano, si rifanno presenti e chiedono di uscire. Sono
canzoni più emotive, a fior di pelle: ci ho messo anni per capire che potevo
interpretarle. Il mio essere solista non è stato un progetto: è accaduto
naturalmente".

"…un disco e un artista ispirato, multicolore ed evocativo, dove le influenze Sixties
convivono con l' elettronica, in bilico tra Syd Barrett e Beck, passando attraverso The
Flaming Lips e Nick Drake…"
Clicca questo link per scaricare il materiale promozionale:

Videos:
Mutations ‐ https://youtu.be/qrEgf8dl8Sw
On High Hills (Live) ‐ https://youtu.be/R0Pg7y6QdnM
Behind Asteroids ‐ https://youtu.be/GO9_yYlbrSE

Soundcloud: https://soundcloud.com/capitanomerletti/sets/watch‐out‐forsatellitesand‐
asteroids/s‐uQ2fx
Bandcamp: https://capitanomerletti.bandcamp.com/
Reverbnation: https://www.reverbnation.com/capitanomerletti
Facebook:
https://www.facebook.com/capitanomerlettipage
https://www.facebook.com/capitanomerletti
Twitter: https://twitter.com/capitanmerletti


Credits
Capitano Merletti
"Watch Out For Satellites And Asteroids"

1 Desolate Space Shell
2 Back to Planet Earth (While Piero Piccioni is Floating in My Damaged Brain)
3 Why Do You Hesitate?
4 Hard Times for Devils
5 Newspaper
6 An Egg into the Sun
7 Behind Asteroids
8 Time of Stars
9 On High Hills
10 God Sent Me a letter
11 Morning Dream
12 Upside-Down Lone Universe


Songs, lyrics and music by Capitano Merletti
Written and performed by Capitano Merletti
Engineered, recorded and mixed by Capitano Merletti
Additional Engineering by Marco Pagot and Marco "Nonna" Posocco
Mastered by Ruggero Pol and Marco Pagot at
Garage Records Studio, Treviso, Italy
Layout by Katya Scarpulla


Capitano Merletti is Alessandro Antonel:
Lead vocals, backing vocals, drums, percussion, acoustic guitar, 12 strings acoustic guitar, bass guitar, electric guitar, 12 strings electric guitar, piano, Fender Rhodes, Wurlitzer electric piano, electric organ, Farfisa organ, keyboards, synthesizer, glockenspiel, mandolin, ukulele.

Jacopo Mazzer played violin on tracks n. 6/8/9.
Svevo Antonel played maracas and kabasa on track n. 6

Capitano Merletti thanks God, family and everyone who helped make this record, and/or inspire it, with special thanks to Giorgio Antonel, Marco Pagot and Marco "Nonna" Posocco for their help, music and friendship. Thanks to Ruggero Pol, Katya Scarpulla, Edoardo De Bastiani, Jonathan Peter Mills, Jody Furlong, Jordan Buttignol, Greta & Vince Barattin, Svevo, Lina Sari, Daniele Girardi, Matteo Benezzi, Jacopo Mazzer, Luigi Tadiotto, Marco Simonella, Emanuele Lombardini, Mauro Da Re, Alberto Corbolante, Iseo Pin, Marco Fracarossi.