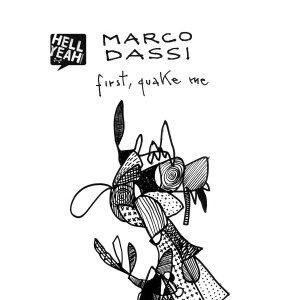 Hell Yeah
2013 - Psichedelico, Elettronico, House
Leggi la recensione
Descrizione a cura della band
SEAN JOHNSTON "Quality stuff, will find a home for many of these at ALFOS"

MATT WALSH "this is interesting musical deep disco house with a lot of charm, excellent album!"

SHADOW DANCER "Great debut! A pleasure to listen to all the way through! Great touches of melody and quirkyness throughout"

CAROLA PISATURO "simply amazing!!!!! xx"

MASSIMILIANO PAGLIARA "great album! 5/5"

WEHBBA "Cool album, really diggin the textures and the spaced out vibe on it"

MORPHEUS "some very nice stuff in here: like swedish love,when she puts her hands...,slow norske, reloved, and acid purple weed, will play those ones.. cheers!"

ICHISAN "Fantastic album! I think this is the best album in 2013 so far... 10/10"

FLORIAN MEINDL "Big move towards melodies and electronica - outstanding artist-album!"

CLAUDIO COCCOLUTO "Bellissimo!"

Q BURNS ABSTRACT MESSAGE "Fantastic album … I love it all. I will give all the support I can … thanks so much for this and best of luck with this fabulous release!"

ANTE PERRY "I have to listen more carefully to it, but after the 1st listen I like La Chute most. I always was a fan of his sound, so congrats to the album mate!"

STEPHAN BODZIN "brilliant deep n slow album. full of love and inspiration. no favorites as i love the whole journey...."

SPACE RANGER "impossible to pick a fave. the whole album is simply great. i wll go to holday for two weeks tomorrow and this will be definitely in my top 5 car radio charts! damngood!!"

Italian DJ and producer Marco Dassi is releasing his debut full-length album, First, Quake Me on Hell Yeah Recordings in september 2013.

Having always experimented with a range of sounds and styles from hypnotic techno to melodic bass throughout his career, it is no surprise that this album marks another evolution for Dassi.

A world away from the minimal techno and tight tech loops of his early releases, it's a more personal and intimate affair that is layered up with plenty of genuine musicality.

Far from a collection of banging bangers, First, Quake Me is a mature record that works on your head as much, if not more than, your heel.

Across the 13 tracks the album peaks and troughs through blissful soundscapes, dancefloor focused grooves and moody ambient pieces as well as some disco nuggets and deep electronic delights. As such it's a real listening experience from start to finish; and album that takes you somewhere away from here as well as providing plenty of propulsive moments for the club.

Be A Light opens the album with a heavy kick drum and plenty of wiry, sinewy synth sounds that grow in stature and ease you into Dassi's world. From there Les Petites Choses' mines a laidback disco groove that is infused with plenty of musicality and frazzled hooks.

Elsewhere the likes of Fleeting Glances suspends you in outer space as sci fi sonics drift by, swells of intergalactic energy build up and dissipate and huge, thudding kicks propel you along. Swedish Love; will no doubt be a standout single for many with its purposeful disco swagger and shiny, reflective analogue textures.

Reloved proves Dassi does vocals as well as instrumentals as he infuses his melodically rich arrangements with muffled male motifs, whilst Acid Purple Weed is a deep house cum acid track that proves this Italian does infectious groove as well as cinematic ambiance.

Closing on the downbeat, depraved sounding technoid slump of Confabulous, First, Quake Me is an album of true invention and originality. It stiches together a wide array of influences into a hugely absorbing tapestry of textural delights.