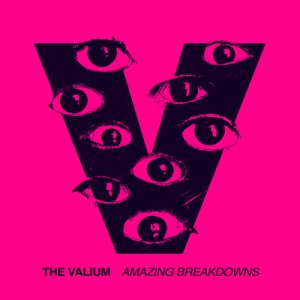 Leggi la recensione
Descrizione a cura della band
AMAZING BREAKDOWNS' (Esaurimenti Meravigliosi), è il titolo del nuovo album di The Valium.

Un esaurimento. La conversione delle energie negative e la trasformazione di esse in forza propulsiva per la creazione.

Questo è in effetti il tema del nuovo album di The Valium, non a caso nato in un periodo turbolento e di cambiamento, un disco incasinato e potente, registrato al Sonic Temple Studio (Sa) da Fabio Calluori, mixato per ben 3 volte (Londra, Bologna, Cava de' Tirreni) e portato alla luce infine vicino casa, presso Studio XXXV. Un lavoro sarcastico e poco inquadrato, che rispecchia quello che The Valium sono oggi.

Mixato da Johnny Paglioli e masterizzato a Berlino da Stephen Noltmayer, in questo album la band esprime più di sempre la propria selvaggia potenza garage che si intreccia con la psichedelia rock'n'roll.
Label XXXV si invaghisce del progetto e viene deciso di fare uscire l'album al più presto, con grande entusiasmo.

Il primo singolo tratto dal disco, è 'I Hate You', canzone accompagnata da un videoclip firmato dal regista Daniele Esposito. Il video traccia la storia di una Cenerentola contemporanea, oramai disillusa dalla vita, impazzita e follemente arrabbiata con il Principe (suo ex).

La band sta pianificando un tour estero che partirà dall' Inghilterra, luogo di origine del loro sound.


Credits
Recorded by Fabio Calluori at Sonic Temple Studio (except track 12, recorded at Studio XXXV by Johnny Paglioli)
Mixed by Johnny Paglioli at Studio XXXV
Mastered by Stefan Noltemeyer, Berlin
Produced by The Valium
Label – XXXV – www.xxxv.it // info@xxxv.it
Art Direction by Roberto Policastro, Doppiavù Design / Marco Sabino
Skull Illustration by Luca Maresca
Guests: Nico Plescia: Fuzz Guitar on 'TV'

The Valium are:
Marco Sabino | Vocals
Luigi Sabino | Guitar /Backing Vocals
Luca Maresca | Guitar /Backing Vocals
Mariano Lepore | Bass /Backing Vocals
Davide Maresca | Drums

Thanks to:
Owen Morris, Francesco Catitti, Matteo Cantaluppi, Nicodemo, Alex Carnevali, Gabriele Loria, Roberto Policastro, Cristiano De Divitiis, Johnny Paglioli, Nico Plescia, Elio Di Pace, Fabio Calluori, Girolamo Ota.

Follow The Valium on www.thevalium.com