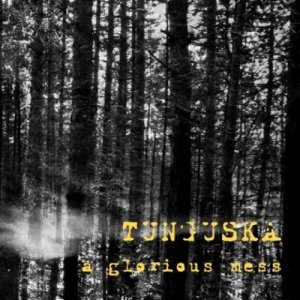 Leggi la recensione
Video in questo album (1)
Descrizione
Allungare le mani oltre al muro liquido del suono. Le parole penetrano nella pelle come schegge di corteccia bruciata.
Osare ed immergersi nel cratere emozionale che si apre sotto ai piedi. Pece fredda e velluto nero.
L'impatto è deflagrante, la quotidianità per una volta si ferma ad ascoltare loro: anatomia del torbido reale.
Bisogna viverla come un'esperienza, senza tentare di decifrarla.
Tunguska sono un caso irrisolvibile.

Il duo nasce nel 2015 dall'incontro tra Gennaro Spaccamonti (voce, chitarre) e Nicola Monti (batteria). Dopo aver passato un anno e mezzo in un bunker alla periferia di Forlì a rimettere insieme i pezzi di una deflagrazione improvvisa con una personale miscela fatta di muri di chitarre, inserti elettronici e ritmi incalzanti e claustrofobici, il duo riemerge con A Glorious Mess ,album di prossima uscita, prodotto da Paolo Mauri (Afterhours, Le Luci Della Centrale Elettrica). L'album sarà anticipato dal singolo Everything You Know Is Wrong.


Credits
Gennaro Spaccamonti - Vox, Guitar
Nicola Monti - Drums

Additional Musician:
Paolo Mauri - Bass Guitar, Keyboards, Samples, Arrangements

All Songs By Tunguska

Recorded @ Studio 73 (Ravenna) by Riccardo Pasini and Paolo Mauri.
Produced, Mixed and Mastered by Paolo Mauri @ pma0db studio.