TESTO
[yeah!] it's the first week of december and i'm feelin' blue my friends just dropped me home it's the first week of december and i'm callin' your name [oh oh oh oh oh] the neighbour came here knockin' on saturday night and told them you were gone here i am by myself callin' your name [oh oh oh oh oh] i haven't always loved you but now i think about you you were there every night i came home from the club when i was so drunk i could barely walk i lied on the landing with you and when the sun waked me up i crawled up back in bed [she's gone] [she's motherfuckin' dead] and all i've left to do is watch the carpet with a lump in my throat it's the first week of december and i'm feelin' blue it's the first week of december and i'm feelin' blue it's the first week of december and i'm writing this song for you bye-bye
PLAYER
Premi play per ascoltare il brano The Bye-Bye Song di Worlich:
Questo brano è stato inserito in alcune playlist dagli utenti di Rockit: importata (di @ con 104 brani), importata (di @sarafulli con 100 brani)
DESCRIZIONE
This is about my (then ~12 years+) dog, killed on the night of Saturday, December 5th, 2009, in the crossroads in front of my house. I came home from the movies that night ("Dorian -motherfucking- Gray") and my parents didn't say what happened till the following evening, to not ruin my weekend. The next week I was at a lecture and I was feeling like crap, I was about to start fucking crying in the middle of the classroom.. and then i thought "ok wimp, let's write a song about this". She was a whore. She always snarled at me, from day one, and she was often very very annoying, but, hey, whatcha gonna do?
ALBUM E INFORMAZIONI
La canzone The Bye-Bye Song si trova nell'album I'm Glad EP uscito nel 2011.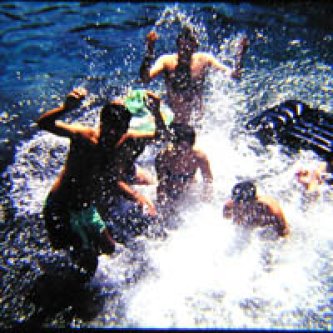 ---
L'articolo Worlich - The Bye-Bye Song testo lyric di Worlich è apparso su Rockit.it il 2013-01-21 19:03:00