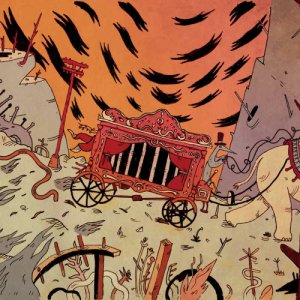 2017 - Strumentale, Progressive, Post-Rock
Leggi la recensione
Video in questo album (2)
Descrizione a cura della band
"Don't Join The Circus" è il secondo EP di You Break, You Buy. Con questo lavoro la band ha scelto di esplorare ulteriormente la composizione di brani strumentali in grado di unire elaborati intrecci ritmici con orecchibilità pop. Naturale continuazione del precedente lavoro "Happy Happenstance", la formazione londinese punta stavolta a sonorità ancora più frizzanti e talvolta aggressive, attitudine compositiva perfettamente supportata dal lavoro di Adam Edwards dietro al banco mix. "Don't Join The Circus" sta ricevendo crescente riconoscimento non solo in Inghilterra ma anche all'estero e sta permettendo a You Break, You Buy di affermarsi come una delle nueve band più interessanti della scena Math-Rock anglosassone.


Credits
All tracks written and performed by You Break, You Buy:

You Break, You Buy are:

Jon Hughes - Guitars
Alastair Cross - Guitars
Sara Kleppe - Bass
Luca Romano - Drums

Vocals on "All Together Better" by Declan Feenan aka Spy from Moscow

Recorded by Adam Edwards & Kyri Demetriou at A-Tonal Studios, London,
Mixed by Adam Edwards,
Mastered by Ludwig Maier at GKG Mastering, Germany.
Artwork by Valerio Immordino.