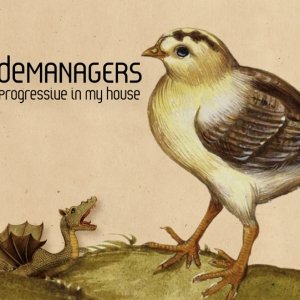 Leggi la recensione
Descrizione a cura della band
Since the early rehearsal room craziness, in the deManagers'house there's been a play between the subtractive 'de' and modern time management. Some of us supported the incomprehensible
Imprenditors, but we left that path for future explorations. Improvisation, composition, eclectic, sometimes strange, moods. Something always comes up from chaos. Recent history is an open project. Someone may be reminded of the indie-band Spriggan, the d'o.n.c. collective, the pseudo-dark-raver - duo Fromm, or the cult-demo band Sguastasfestes… but after all, why should they? Four veterans form the past, obsessively attracted to rock'n'roll, synth pop and old memories. Progressive in my House, out Now! All of it with no mathematical angst, only dedication to the message. Peace.


Credits
davidemanagers – guitar, bass, harmonica.
bughi – vox – synth – effects.
uauchh – guitar – harmonica – bass.
karmek – drum – e.drum.
Elia – bass.